His book explains how best to set up an office and which of the latest gadgetry is likely to be useful.....It aims to cure people of their techno-fears by taking them through computers step by step.
Kevan Reilly The Daily Mirror


Basic advice on how to run a successful business from home with a computer, modem and fax...
The Times



This book is a practical guide to the latest developments in business and communication technology, and how to put them into use. It takes you through all the steps needed to start and run a company in the 21st century.

Sound, impartial advice from someone who's been through the whole process from start to finish - Anthony Capstick Can offer you clarity to your cloudy situations.

The key to it all: understanding and exploiting the revolutionary changes in business and communications technology. It is now possible to run an entire business from one PC, using online services for research, e-mail and modem-based fax for communication, and simple DTP procedures for printed literature.

How can you start and run a successful business from your back room with only a computer, a fax and modem link, and a pocketful of change, and how can you exploit all the latest technological developments to grow an existing business?

Anthony Capstick has done both, and in this book he shows how. In 1991 he left the Financial Times to set up his own business: Instant Search, a business information service providing high quality reports and credit ratings on any company worldwide. He started with just a computer in a spare bedroom in his home in Lancashire and now runs a thriving business with six employees.

To directly order a copy of "How to Change Your Life with Technology"
please send an email to sales@instant-
search.com You will
receive the book at the
special price of £12.99
This price includes postage and packing to any UK address. All we ask is that you let us know how you found our site on the Web.
Thank You






All a piece of cake really... easy to read IT book.
Manchester Evening News

Anthony Capstick's no-nonsense business approach is impressive and his credentials in recommending this approach to others are amply demonstrated by his own success in establishing a new, rural high-tech business from scratch. His pragmatic style is worth a brace or two of business gurus' books.
Alan Denbigh Executive Director of TCA the Telework, Telecottage and Telecentre Association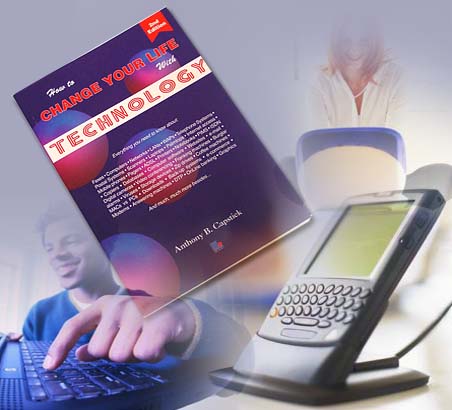 Anthony Capstick was born in Lancashire, went to school in Blackburn and studied Science at Manchester. His first experience of self-employment was a window-cleaning round, which he bought after graduating: the proceeds of which funded a round-the-world trip, after which he worked as a journalist and computer analyst with the Financial Times between 1985 and 1991.
He left the FT to set up Instant Search - the company's office is located in the historic village of Whalley, Lancashire. His wife Katie is a director of the business and they have 3 sons and a daughter..